Комментарии
This Week Marks the 10th Anniversary of Anna Politkovskaya's Murder
The legacy of the fearless Russian journalist's muckraking reporting still lives on
Фото: Reuters
It is 10 years since Russia and the world lost a great and courageous journalist. The killing of Anna Politkovskaya on October 7, 2006, was horrifying and shocking, but not unexpected. As Oleg Panfilov, head of Moscow's Center for Journalism in Extreme Situations, said upon learning of her murder, "There are journalists who have this fate hanging over them. I always thought something would happen to Anya, first of all because of Chechnya." It was "a savage crime," said former Russian president — and the father of glasnost — Mikhail Gorbachev. "It is a grave crime against the country, against all of us." Politkovskaya was just 48 years old when she was found in the foyer of her apartment building, shot in the head with a pistol. Her unflinching reporting for the independent newspaper Novaya Gazeta on the Chechen War's human-rights abuses, corruption, and brutality made her one of Russia's bravest journalists.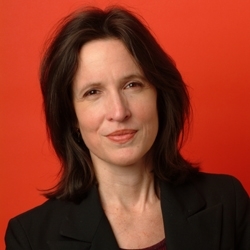 Katrina vanden Heuvel
editor, publisher& and part-owner of The Nation magazine
I met Politkovskaya a few times, in Moscow and in New York. (The Nation and her newspaper Novaya Gazeta have long had good ties — my husband, Stephen Cohen, and I befriended Novaya's brave editor Dmitri Muratov in 1993 a few weeks before he founded the paper.) Anna's manner–quiet, unassuming, even shy–belied her role as a journalist enraged by the injustice and corruption that she believed were strangling her country. Her investigative reporting had made her the target of numerous death threats. On one of her many reporting trips to Chechnya, Politkovskayawas detained and beaten by Russian troops who threw her into a pit, threatened to rape her, and performed a mock execution. "If it were up to me," an officer told her, "I'd shoot you." Yet numerous death threats never slowed or stopped her. In fact, when she was killed, Politkovskaya was at work on an article revealing torture of Chechen civilians by security forces loyal to the region's pro-Moscow prime minister.
Some have blamed President Vladimir Putin for her killing (though her newspaper's editor and colleagues have not). But that is far from a satisfactory or full explanation. Since 1992, 54 journalists have been killed in post-Soviet Russia – most in unsolved contract executions. Thirty of them occurred under Boris Yeltsin, Putin's predecessor. Indeed, Politkovskaya lies in the same cemetery where Dmitry Kholodov, who was killed during the Yeltsin years while investigating military financial corruption, is buried.
Lost amid so much of the coverage is a sad irony: Politkovskaya was murdered on the 20th anniversary of the unfolding of Mikhail Gorbachev's glasnost policy–which quickly led to an increasingly free press. Perhaps reacting to the human costs of glasnost's rollback, the former Soviet president (who is a shareholder in Novaya Gazeta) called Politkovskaya's murder "a blow to the entire democratic, independent press."
This week I asked Muratov what the paper planned to do to mark this grim and sad anniversary. "On the anniversary of Anna's murder we will publish a special issue of the paper dedicated to her — an investigation of the ongoing human rights abuses and corruption in Chechnya."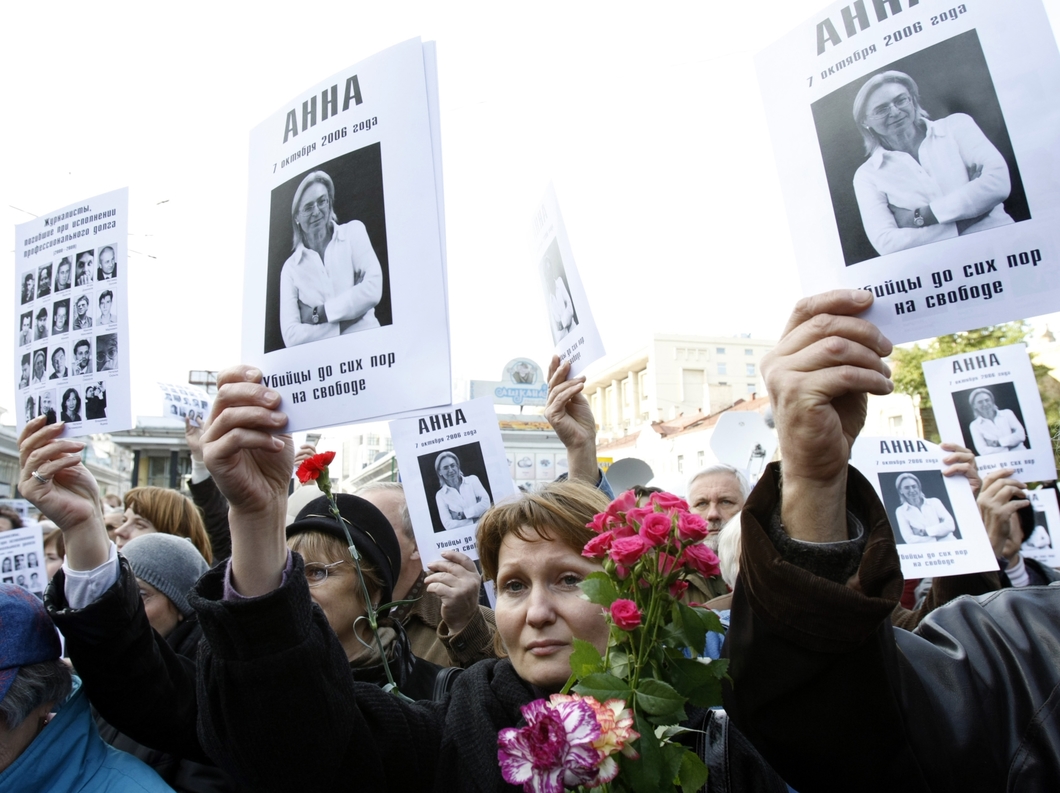 "On the anniversary, we will drape Novaya's building with large posters and photos of Anna. Exactly at 4.02 pm (when she was gunned down), we will play the music Anna loved. There will be flowers, a moment of silence, words of memory. Anna's children, Ilya and Vera, will be present at this ceremony. On the evening of October 6th, we will show a three-minute 'video-protest' in which Novaya Gazeta's staff demand that those who ordered Anna's murder be found and held accountable. On October 7th, cars and vans — plastered with posters of Anna and the message 'Ten years since her murder, those who ordered it have still not been found' — will drive through Moscow."
In a country where more than 80 percent of the people get their news from state-controlled television, Novaya's muckraking, ferociously independent journalism has won it devoted readers (some 235,000 print circulation, 260,000 unique visitors a day, 20 million views a month at novayagazeta.ru)— and passionate enemies. That it survives is testament to its fearless journalists, many in their 20s; to its chief editor, Muratov; its part owner Gorbachev; and its equally passionate readers and supporters.
Ten years after Politkovskaya's murder, media freedom in Russia confronts growing challenges. As Nadia Azhgikhina, executive secretary of Russia's Union of Journalists, told me this week, an array of media regulations and laws give state media additional protection and privileges — in particular state television. Russia's criminal code has several provisions that could be used against journalists, yet the only article designed to protect journalists' rights — criminal liability for "obstruction of the lawful professional activities of journalists" — is used rarely.
Increasingly restrictive regulation of the Internet is troubling. The recently introduced "Yarovaya law" (introduced by Parliamentary Deputy Irina Yarovaya), which includes a range of draconian measures under the guise of fighting terrorism, has raised human-rights activists' alarms and led NSA whistle-blower Edward Snowden to dub it the "Big Brother Law".
Many Russian media analysts and journalists believe these new media restrictions are fueled by the West's anti-Russian sanctions, increasing political tensions, and the deepening and dangerous Cold War. In such times, the already narrow space for diversity of views and freedom of speech shrinks.
Azhkiginna also believes the culture of impunity — the ongoing failure to hold accountable those who threaten, attack, or kill journalists — "poses a real threat to media freedom and democratic development itself."
Yet Azhgikkina is careful to note the Russian media landscape is not a desert, and independent media organizations still operate — though with increasing difficulty — in major cities and around the country. "It is a pity," she says,"that their experience is not known abroad."
While Novaya continues to publish and do courageous reporting, it has suffered blows in the years since Anna's murder. Several of its journalists have died under mysterious circumstances, a few have been gunned down; all reported on risky topics (corruption, Chechnya's human-rights abuses, right-wing nationalist extremism) before their deaths. In the face of such peril, it might have been natural for the newspaper to tone down its tough coverage. Yet, as most newspapers and television networks have yielded to Kremlin or oligarchical pressure and surrendered their independence, as Russia has descended from the media freedoms of glasnost to today's conformity and compliance, Muratov and Novaya Gazeta continue against great odds, honoring Anna Politkovskaya's work and life, to publish and resist.